For some weeks now, India's top court has had marriage on its mind. One five-judge bench headed by Chief Justice DY Chandrachud is hearing why the LGBTQI+ community should be (or should definitely not be, depending on your perspective) granted marriage rights at par with other citizens.
Another five-judge bench headed by Justice Sanjay Kishen Kaul—who is also on the marriage equality bench—looked at easier ways to end a marriage.
And the week ended with the top court saying it would look at divorce under Muslim personal law.
The second one first.
The no-fault, no-wait divorce
On Monday, Justice Kaul's bench ruled to make divorce easier under the Hindu Marriage Act. The ruling coincided with the introduction of divorce for the first time on May 5, 1955 to be granted under specific grounds such as adultery, cruelty etc. Hence the need to establish a "fault" with a spouse.
A divorce can also be sought by mutual consent but couples would still be required to sit out a cooling off period of six months.
The bench made several significant changes with regard to divorce.
When there is an irretrievable breakdown of marriage, the Supreme Court can step in to grant a divorce (no, you cannot go rushing to the top court for a divorce, you still have to file a case in the family courts).
This divorce may be granted unilaterally, even if one partner is not keen on it provided that the spouse who wants it can establish that the marriage has irretrievably broken down with no hope of resuscitation.
When couples agree that they want a divorce by mutual consent, the cooling off period can be waived.
The Supreme Court alone will have the discretion to dissolve marriages under the above conditions.
[Click here to read the judgement]
"Nothing is gained by keeping the parties tied forever to a marriage which has, in fact, ceased to exist," the bench ruled.
[Read Geeta Ramaseshan SC's ruling on divorce should spark a debate here]
"The important thing here is consent," explained lawyer and legal scholar Mihira Sood, welcoming the decision. "One understands that you want to preserve the institution but dragging out a marriage that no longer exists is not the way to do it."
For Sood the ruling signals a shift to a more liberal framework where it is up to individuals rather than courts and the states to decide when to leave. "Yes, there is a limited scope to what the ruling can achieve, and it's now up to Parliament to amend the Hindu Marriage Act through a bill that has been pending for long," she said.
[Read Mihira Sood's article Consent is the soul of marriage here]
In a separate hearing, the Supreme Court agreed to look at the validity of talaq-e-hasan that, under Muslim personal law, allows a man to unilaterally divorce his wife by pronouncing talaq thrice with a gap of a month between pronouncements.
In 2017, the court had struck down talaq-e-bidat, or instant divorce when the husband says talaq three times in one go. At that time, the court said it would not go into other forms of divorce or into polygamy which many Muslim women want struck down.
Marriage equality
Meanwhile, the other five-judge constitution bench has over eight days of hearing been considering the expansion of marriage rights to the LGBTQI+ community.
On Day 7, after continuing with its insistence that the judiciary lacked the legislative legitimacy to change marriage laws, the union government seemed to be in a mood for compromise.
Solicitor General Tushar Mehta told the court that the government will set up a panel to look at steps on ensuring social security and welfare benefits to same-sex couples without getting into the terrain of actual marriage.
From Day 1, the court has advised incremental change. But from setting the limits to the Special Marriage Act (and steering clear of the thorny path of personal law), the bench seems to have acknowledged its limitations in amending laws.
Radhika Pirmal with her wife Amanda
The petitioners are keeping up a brave front but in private are heart-broken because they expected more.
Marriage, said Anish Gawande, curator of Pink List India that tracks Indian politicians on LGBTQI rights, offers protections, not merely benefits. More crucially, "Marriage as protection from familial persecution cannot be introduced by an amount of 'administrative tweaking'," he tweeted.
"In adversarial litigation, there is no point in the constitutional court playing the role of a mediator," tweeted Supreme Court lawyer Thulasi K Raj. "The court either must hold that there is a violation or that there isn't one."
In any event, the compromise might not answer the fundamental question for which the petitioners approached the constitution bench in the first place: Do all citizens, regardless of sexual orientation, have the same rights to marry?
It looks like the answer to that will have to wait for another day.
Postscript: Nepal's Supreme Court has this past week instructed the government to recognise the same-sex foreign spouse of a Nepali citizen. The apex court also instructed the government to consider broader recognition of same-sex relationships, says Human Rights Watch.
In numbers
Just 186 or 7% of 2,586 candidates contesting the Karnataka assembly elections are women. Of these, 64 are contesting as independents. To put it in perspective, consider that 581, or 22% of candidates have criminal cases pending against them; of these 404 (16%) are "serious" cases that could include assault, murder and kidnapping.
Source: Association for Democratic Reforms
Watch
Youtube ScreenGrab
Karma Paljor, the editor-in-chief of EastMojo has posted a short video from Manipur, shot by his colleague Kalyan Deb on how Kuki women formed a human chain to physically protect the Meiteis who were stranded in Churachandpur in the aftermath of the violence that rocked the district on Wednesday. The women prevented the agitators from coming closer towards vehicles that were carrying Meitei community people to safety in Imphal. Watch here.
News you may have missed
Bungle in the Dangal
Not sure who, if anyone, is advising the central government on how to deal with the women wrestlers who have had to sit in protest and approach the Supreme Court just to get the Delhi police to file an FIR (first information report) against the Wrestling Federation of India chief Brij Bhushan Sharan Singh, a BJP MP from Uttar Pradesh who is accused by multiple women and girls, including a minor, of sexual harassment.
On the evening of April 29, following a Supreme Court hearing, Delhi police, which reports to the central home ministry, finally filed two FIRs against the powerful MP. The Supreme Court has ordered security for the wrestlers and on Thursday closed their petition, saying they are free to approach an appropriate forum or court for any further grievances.
Wrestlers Bajrang Punia, Vinesh Phogat, Sakshi Malik and others in a candle march during their protest at Jantar Mantar, New Delhi. (Image source: PTI)
The protestors have said they will not go home until Singh is arrested.
Then, on Wednesday night, a scuffle broke out between Delhi police and the wrestlers, apparently because the police objected to folding beds being brought in by Aam Aadmi politicians "without permission" to the protest site after it had got flooded in the rains.
The women say some police personnel were drunk, a charge denied by the police, and they were manhandled. They have threatened to return the medals they have won for the country over the police's misbehaviour.
Delhi Commission for Women head Swati Maliwal and AAP MLA Somnath Bharti were among those detained. A woman journalist, Sakshi Joshi said her phone was taken away from her and her clothes torn by women police.
[Watch video of a distraught two-time world medallist Vinesh Phogat recounting what happened here]
The wrestlers have now appealed to farmers to come to Delhi and join their protest in solidarity. The police are detaining sympathisers, including Olympic athlete Geeta Phogat at the border.
[I had written about the unprecedented protest in my last newsletter]
Bilkis Bano update aka how to dodge a court hearing
The Bilkis Bano hearing before a two-judge Supreme Court bench saw yet another not-so-subtle attempt by the government to stall matters, leading a frustrated Justice KM Joseph to tell solicitor general Tushar Mehta in open court: "It is obvious you don't want this bench to hear the matter."
The Supreme Court is hearing—or trying to—a plea by Bilkis Bano who wants to know how 11 men convicted of gang-rape and murder of 14 members of her family during the Gujarat riots and sentenced to life imprisonment were allowed to walk out of jail in August last year.
At the last hearing, the counsel for the state and central government told the court that it was considering filing a petition against its order to produce the file that led to the men's early release.
This week, government counsel changed its mind and said it would place the records before the court but there was "no hurry".
No? The court's summer vacation starts on May 20 and on June 16, Justice Joseph will retire. By the time the court reopens, a new bench will have to be constituted to hear the matter.
What is it they say about justice delayed?
AROUND THE WORLD
In El Salvador, the death of a seriously ill woman who was denied an abortion despite knowing that the foetus would not survive outside her uterus, has led to a hearing by the Inter-American Court of Human Rights on whether El Salvador's 25-year-old total ban on abortion violates a woman's right to life and health. The court's verdict, reports Foreign Policy, could spell the end of total abortion bans in five countries that recognise its jurisdiction including Nicaragua, the Dominican Republic, Haiti, Honduras and El Salvador.
In New Mexico, Austin Killips became the first transgender athlete to win a UCI women's stage race at cycling's Tour of Gila. The 27-year-old transgender woman thanked fellow riders for their support after a "week of nonsense on the internet" but her win, reports BBC, has reignited the debate over transgender athletes competing in female events.
Uganda is now amongst the worst places in the world for the LGBTQI community after lawmakers on Tuesday passed an anti-gay bill that differentiates between those identifying as LGBTQI and those who actually engage in homosexual acts. Aggravated homosexuality that involves a minor and other categories of vulnerable people, including men who are HIV positive, carries the death sentence. "Attempted homosexuality" carries a prison term of 10 years.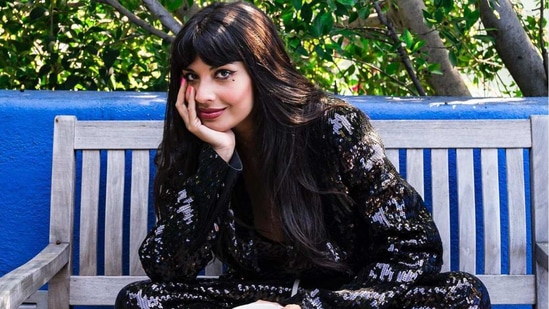 Jameela Jamil (Image source: Instagram/Jameela Jamil)
And this…. Over breathless coverage of who-wore-what at this year's annual Met Gala in New York, actor and self-described "feminist-in-progress" Jameela Jamil took to Instagram to lambast the celebration of Karl Lagerfeld, the fashion designer who died in 2019. "Hollywood and fashion said the quiet part loud when a lot of famous feminists chose to celebrate at the highest level, a man who was so publicly cruel to women, to fat people, to immigrants and to sexual assault survivors," Jamil, who has 3.7 million followers on Instagram wrote. "This isn't about cancel culture. It's not even about Karl [Lagerfeld]. It's about showing how selective cancel culture is within liberal politics," Jamil explained.