(Source: Amazon Prime)
Perhaps the only thing more chilling than the fact that so many girls have gone missing from their homes in the TV series Dahaad is the utter indifference of their own families. There is a complete lack of curiosity about their whereabouts and well-being. Why? Because "she-ran-away-and-brought-dishonour-to-the-family-name-so-she's-dead-to-us".
Written by Reema Kagti, Zoya Akhtar and Ritesh Shah and starring Sonakshi Sinha as Anjali Bhaati, a sub-inspector at Mandawa police station in Rajasthan, the series on Amazon Prime subtly unpeels so many aspects of everyday patriarchy: The idea of honour vested in the family's women, attitudes towards employed women, caste, arranged marriage, and even, briefly, the ugly politics behind interfaith relationships.
The plot revolves around a series of mysterious and apparently unrelated deaths assumed to be suicides by cyanide poisoning of women, all dressed as brides, their bodies found inside locked toilets.
No plot spoilers here, but it doesn't take SI Bhaati long to figure out that these seeming deaths by suicide are part of a pattern. All the women had run away from home to marry and then turned up dead. None of their families had bothered to find out where and how they were. In many cases they hadn't even bothered to report the girls were missing.
Gone girl
Women who are reported missing have been in the news since the movie, The Kerala Story, which claims to be based on facts, made the astounding claim that 32,000 Hindu and Christian women had been trafficked by Muslim men to work as sex slaves to terrorist organisations like ISIS. Falling back on the old "love-jihad" controversy—denied in Parliament by the BJP's own minister of state for home—the film claimed the women had been lured by wily men pretending to be in love with them. These men convinced the women to run away from home, convert to Islam and then sent them to work in Yemen or Syria.
[Read: Film producers to add a disclaimer: there is no authentic data to back the suggestion that the number of converted women is 32,000 or any other figure, film represents a fictionalised version of the subject]
Next came reports about missing women in Gujarat (40,000 from 2016-2019), Madhya Pradesh (99,119 from 2019-2021) and Maharashtra (3,594 women in January this year alone, according to the state commission for women).
Lost in the political scoring of brownie points over which state was #1 for women who go missing, is the question: Why? And what happens to them?
Stark numbers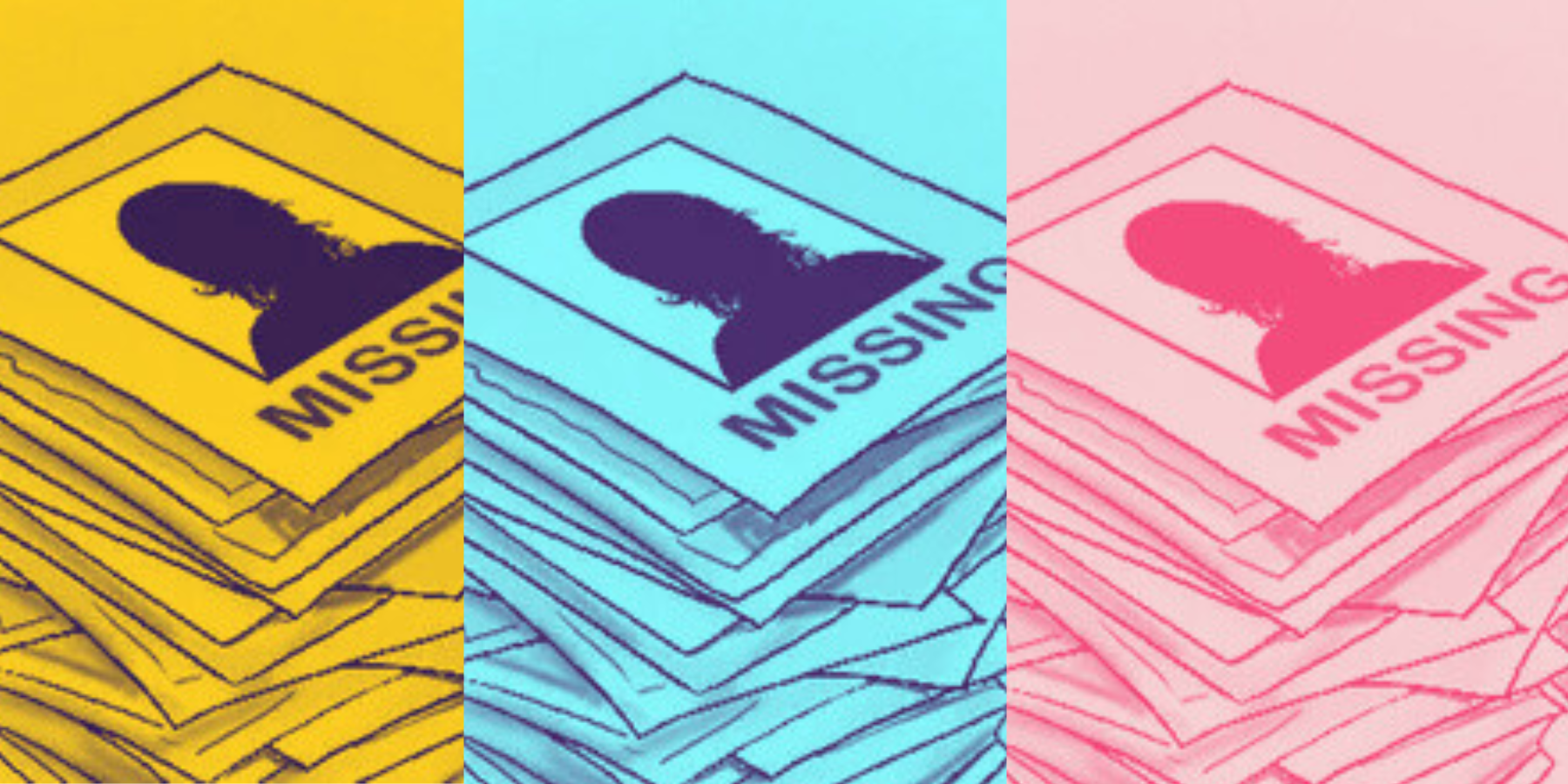 (Source: UNFPA)
Over 1.1 million Indian women and girls—264,000 minors and 884,000 adults—were reported missing between 2017 and 2021, finds an analysis of National Crime Records Bureau (NCRB) data by the website Behenbox. Only 67% were traced or recovered.
[Read the Behenbox report here]
In 2021, 71,000 children below the age of 18 were reported missing, according to NCRB. Of these 77% were girls, many of them trafficked for domestic work, sex work and even marriage in states like Haryana and Rajasthan that have a low sex ratio, says Soha Moitra, director, north, CRY (Child Rights and You).
"The tragedy is that even when the girls are found and united with their families, they go through such strong stigma and trauma. Sometimes the family won't take them back and often parents will get her married off as soon as possible in order to save the family's "honour"," says Moitra.
So powerful is this sense of shame that many cases of girls who go missing are not even reported to the police, adds Moitra.
Why girls run away to marry
The story of young women and their quest for love is rarely told. A small but significant 2019 report by Partners in Law in Development with research partners HAQ Centre for Child Rights and Vishakha looks at adolescent realities in India through a few case studies.
It paints a portrait of an India where girls are brought up to accept male authority. Their movements are monitored in order to preserve family "honour". They are burdened with housework with barely any time for leisure and friendship and live with their parents until their marriage to a man chosen for them.
[Read the report here]
Many of these girls are vulnerable to anyone who shows them affection and makes them feel special. Since "love" marriages particularly those outside of caste and faith lines are still anathema in large swathes of the country—94% of all Indians still have arranged marriages—these relationships are fraught.
In one case, highlighted in the report, the consensual though secret relationship of 16-year-old with her 18-year-old boyfriend, was revealed when she got pregnant. Her father filed a case of rape against the boy, and the girl was packed off to a shelter home where she gave birth and was waiting to turn 18 so she could leave.
Happy endings
Two years ago, the 15-year-old ran away with her boyfriend of a different caste. When she was caught by the police and taken back home, her family said they didn't want her back. So, she was packed off to a shelter home.
When the Telangana State Board results were declared last week, the now 17-year-old had scored 945 out of 1,000 topping her class at the Kallam Anji Reddy Vocational Junior College.
Speaking to the media, the girl said her parents were happy and proud. But she has no plans of returning anytime soon. "I want to go back home after I start earning," said the girl who now dreams of becoming a professor in her favourite subject, math.
Going places
Edna Adan Ismail (Source:AP)
For decades, Edna Adan Ismail, a nurse-midwife fought against female circumcision and for improving women's health care in East Africa. On Tuesday, Ismail who went on to found a hospital and university in Somaliland that significantly reduced maternal mortality was named the winner of the 2023 Templeton Prize.
Valued at nearly $1.4 million and one of the world's largest annual individual awards, the first recipient of the Templeton prize in 1973 was Mother Teresa. Ismail is the first African woman to win the prize.
The award honours the 85-year-old's efforts to "affirm the dignity of women and help them to flourish physically and spiritually".
Read about Edna Adan Ismail's work here.
Celebrate
The power of Rs 10
Kudumbashree was designed as an all-women poverty alleviation microcredit programme, its members drawn from lower income families in Kerala who contribute Rs 10 a week.
Five years ago, when the state was inundated with the worst flood in a hundred years, the women's collective donated Rs 7 crore to the chief minister's relief fun—equalling contributions by Google and Apple, and nearly twice the amount by the Bill and Melinda Gates Foundation.
During the pandemic, Kudumbashree intervened with supplying masks and sanitisers and arranging for treatment centres. Its Janakeeya Hotels ensured quality meals to the needy at an affordable rate. Even today, it runs 125 restaurants across the state that provide meals at Rs 20.
On its 25th anniversary, Down to Earth has a story on how the collective has transformed the lives of women from poverty-stricken families into "agents of change and recovery".
Read here.
Watch
Nobody would accuse Sports Illustrated's annual swimsuit issue for making any sort of feminist statement. But in a first, the magazine has put 81-year-old Martha Stewart, its oldest model yet, on the cover. "I don't think about age that much," the entrepreneur said. "But I thought that this is kind of historic."
Watch Stewart talk about being on the cover of Sports Illustrated here.
News you may have missed
Wrestling's oversight committee needs a lesson (or 10) in handling complaints of sexual harassment
Women of different organisations arrive to join the wrestlers protesting against Wrestling Federation of India (WFI) chief Brij Bhushan Sharan Singh (Source: ANI)
The oversight committee set up to look into complaints of sexual harassment by Brij Bhushan Sharan Singh, Wrestling Federation of India boss actually asked women wrestlers to provide video or audio "proof" of the harassment that took place behind closed doors.
Quoting unnamed wrestlers, a report in The Indian Express also says a committee member told one of the complainants that Singh was like a "father figure" and that she had in all likelihood misconstrued his "innocent" touching. Singh allegedly used to touch the breasts and stomach of athletes to check their breath.
A request by the women to depose only before women was also ignored.
A six-time BJP MP from Kaiserganj, Uttar Pradesh, Singh has four unrelated criminal cases pending against him, including attempt to murder and dacoity, according to the Association of Democratic Reform.
He is accused by at least seven women, including a minor, of sexual harassment and abuse of power.
Meanwhile, with trials for the Asian Games set to start in a few days, there is no sign of the impasse ending.
Law of the land > customary law
The Supreme Court on Thursday warned the Nagaland government to ensure the implementation of its March 14 order to hold urban body polls with 33% of seats earmarked for women, as mandated by the law.
After its March order, the government had cancelled elections to 36 town and three municipal councils.
Civic polls have not been held in the state since 2004 due to resistance by tribal groups that claim reservations go against their customary laws. In 2017, two people died during violent protests and the then chief minister TR Zeliang had to resign.
Nagaland got its first women MLAs only in the March assembly election this year.
"Do not take us to the point where we may have to declare some of your customary laws as unconstitutional," the bench warned.
…And the good news
When she went into labour on the bus from Bengaluru to Chikkamagluru there was no way 23-year-old Fathima could have known that the woman conductor had over 20 years of experience working in the labour ward of a nursing home.
The nearest hospital was 10 km away so Vasanthamma quickly took charge. She asked the driver to stop, the passengers to get off and then safely delivered the baby. When the ambulance arrived 15 minutes later, the other passengers had pooled together Rs 1,500 to help with the medical expenses.
Mum and baby are reported to be doing well at the community health centre at Shanthigrama, officials from the Karnataka State Bus Tranport Corporation said.
AROUND THE WORLD
In China, the Family Planning Association is launching pilot projects in 20 cities to build a "new era marriage and childbearing culture". This, reports Global Times, includes the promotion of marriage and having children at the appropriate age, encouraging parents to share childcare responsibilities and curb high bride prices and other outdated customs.
China has announced a decline in its population for the first time. There has been a decline in births since 2017 as well as a falling marriage rate.
In Australia, companies that hire more than 100 people will, starting next year, be required to publish data about the gender gap among their employees. Expect fireworks, says ABC News.
In New York, former mayor and one-time hero for cleaning up crime, Rudy Guiliani has been accused by a former aide of rape, sexual harassment and abuse of power. The graphic 70-page legal complaint by Noelle Dunphy against Guiliani goes back to a time when he was serving as Donald Trump's personal lawyer in 2019. Dunphy says Guiliani had hired her as director of business development but failed to pay her what he had promised. The accusation has only added to Guiliani's woes—he is under criminal investigation in Georgia and is a defendant in three different election-related defamation suits.