The murder of a woman in Alwar points to India's most shockingly under-reported story on why nearly 200 lakh women have quit jobs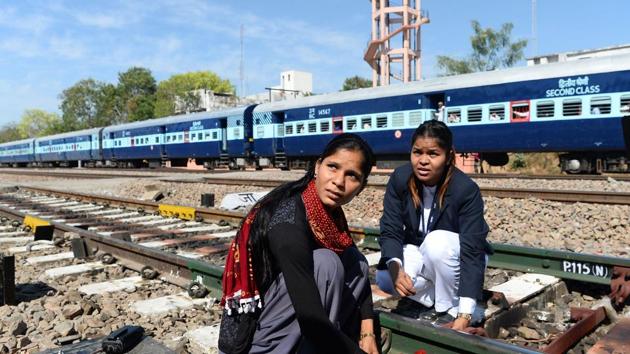 Neelam Jatav (right) with a colleague working on a railway track at the Gandhinagar railway station in Jaipur. Gandhinagar is India's only interstate train station run entirely by women. India is one of the world's fastest growing major economies but also has one of the lowest rates of female employment, and the trend is worsening.(AFP)
All Usha Devi wanted was to give her kids a good education. The wife of a construction worker knew that her husband's income was not enough to educate her children, Tanuja, 15, and Dheeraj, 10, and, so, she took a job at a plastic factory.
Not everyone was pleased. Incensed that she was 'going against Rajput tradition', her husband's uncle, Mamraj Singh, objected and, when she refused to quit, hacked her to death on March 15. Mamraj Singh has since been arrested and the murder weapon, a sword, has been recovered. Meanwhile, at Alwar district, Rajput villagers are reportedly collecting funds for the children's education.
The murder of Usha Devi points to India's most shockingly underreported story. Census data, backed by the World Bank shows us that 19.6 million women from all sectors – formal and informal, rural and urban, illiterate and educated – fell off the employment map.
This decline happened, ironically, at a time of economic growth and when more and more girls are getting educated.
In the eight months that I have been travelling across India to understand the obstacles to women's' employment, I have spoken to IT professionals and factory workers, chefs and chicken farmers and the chief roadblock, in a word, is this: Family.
It is families that impose gender roles. It is families that tell women, regardless of whether they are managers or maids, that it is their responsibility to get dinner on the table (and clean and care for children and the elderly and, depending on where she lives, fetch water and firewood and fodder too).
If we were to take all this housework into account, women's work would actually far outstrip that of men. But given the workload at home, very often when household incomes go up and they can afford to do so, women simply chuck up paid jobs.
In Usha Devi's case, a relative said: "She used to wake up before 5 am and go out to collect firewood so that she could prepare food for her children." Another added, "The house would always be clean. She was constantly trying to make the best out of limited resources."
The message is clear: jobs are fine, but a woman's primary responsibility is her home.
Families hold back women in another important way. A man is expected to have a job. He needs nobody's permission. But when women seek jobs they must first get an all clear from fathers and brothers, husbands and in-laws and sometimes even village panchayats. For instance, there is a demand for skilled women in the hospitality sector but families often believe that serving food or housekeeping is not 'respectable' work for women and girls.
In an economy that is already facing a job squeeze, women tend to get weighed down by work deemed 'suitable' for them – beauty and healthcare, for instance. Job opportunities in rural areas are limited, but migration poses its own restrictions: how will she go, who will she go with, where will she stay? And when they work from home — a popular choice for those who can't go out for jobs — they seem to be unable to move beyond the low returns of pickle-papad-tailoring ventures.
Apart from the family, there are other constraints like safe and affordable public transportation. Women often opt for low paying jobs simply because they are close to home.
Safety is certainly emerging as a concern. More than 80% of sexual harassment takes place in public – on the streets, in public transport, in marketplaces. Does it play a role in keeping women home? I would imagine that it does.
Educated women are leaving jobs faster than others. An IIT graduate with a master's degree from the US told me that she quit because she couldn't take the long hours. For her, as with most mums, 6 to 8 pm at home is sacrosanct; the only time they get with their children.
A few companies have begun looking at gender diversity but they are the exception. In the IT industry, women have an edge at entry-level with 51% of all new hires. But by mid-career, this dwindles to 30% and, at the very top, only 7-8% remain. Why?
If you examine the career trajectories of men and women, you will find that by mid career, men will have changed more jobs and taken more foreign postings than women. Women, on the other hand, are more likely to have taken breaks and sabbaticals for children's board exams or to look after ailing parents.
We know why it's important to have more women participate in the paid economy. Equal participation could boost GDP by 60%. Equal participation would improve women's status in families and in society. It would lead to better investment in their health and education.
"Women's economic empowerment is highly connected with poverty reduction, as women tend to invest more of their earnings on their children and community," wrote Annette Dixon, World Bank vice president, South Asia, in a blog.
Usha Devi only wanted a better life for her children, for them to have the education she herself had never received.
No woman should ever have to die for this.
@NamitaBhandare writes on social issues
The views expressed are personal