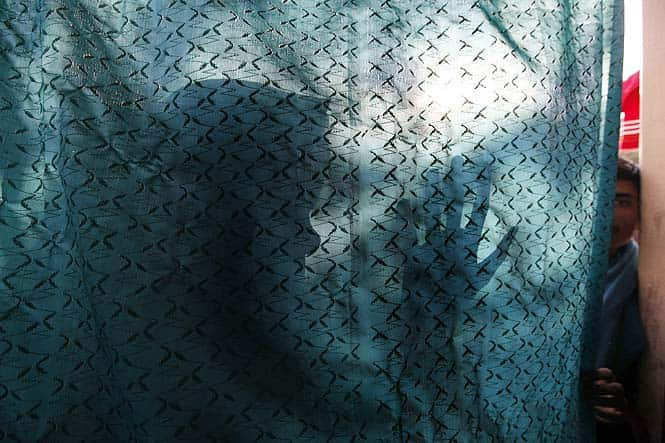 The 36-year-old rape survivor in the Muzaffarnagar riots. (Image Source:Raj K Raj/HT Photo)
When the riots broke out in her village in Muzaffarnagar that day on September 8, 2013, her husband had taken their elder son who had a fever to the hospital at Shamli. She was alone at home with their three-month old baby boy. As the rioters approached, she escaped through the back door, clutching her baby, running, running, running through the sugarcane fields, ignoring the cuts made by the sharp leaves.
When she stopped for breath, she could see the road ahead. Then the men caught her. Afterwards they told her they would kill her and her baby if she said a word about what they had done. She knew them. They lived in her village, Lankh. Her husband was their tailor.
After they left, she made it to the main road, flagged down an auto and, with the help of another woman, made it to a relief camp. Amidst broken whispers, she learned she was not alone, that other women had been subjected to similar violence. When she was reunited with her husband a few days later, she told him what the men had done to her. They decided to fight.
Whose honour is it?
In 2013, India made comprehensive amendments to the rape law following the gang-rape of a medical student in Delhi in December 2012. One of the amendments was to include a separate category of gang-rape during communal violence under a section, 376(2)(g).
In what is likely the first conviction under this section, a Muzaffarnagar trial court on Tuesday sentenced two men, Sikander and Maheshveer—the third, Kuldeep died before justice could be served—to 20 years in jail along with a fine of Rs 15,000. The conviction is significant, said senior advocate Vrinda Grover the woman's lawyer, because it places on record the gang-rape of a woman during communal violence.
The reluctance to place rape on the record often comes from within the community. Shabnam Hashmi, an activist with Anhad, recalled how she visited the relief camps set up in the aftermath of the riots. Many women told her they had been sexually assaulted. But when she returned to record their statement, she was not allowed to meet them. "Unfortunately, within the community there is an attempt to protect izzat and hide it, especially if the girls are unmarried," she said.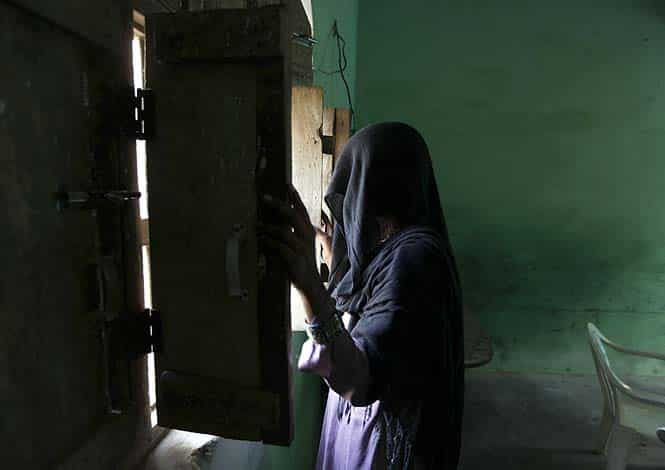 (Source: Raj K Raj/HT Photo)
[Read Furquan Ameen Siddiqui's report, Muzaffarnagar's gang-rape victims sentenced to silence]
Of the seven women who eventually filed complaints, one died in childbirth and five others gave up. One of the women pleaded with the trial court in Muzaffarnagar to record her statement without further adjournments because she was under tremendous pressure from the accused men who were threatening her as well as her family who was counselling her to get on with her life.
Her statement was never recorded. By the next hearing, she had withdrawn her complaint.
Running in circles
Only one woman remained. In the court papers she is recorded as Ms X. In media, her nearly decade long fight for justice is being described as heroic. But should it require heroism to get justice for rape?
"If I didn't have the support of my husband and my legal team, I would not have been able to fight," said X.
To understand what the fight involved consider that Vrinda Grover and the legal team of Ratna Appnender, Devika Tulsiani, Soutik Banerjee and Mannat Tipnis had to get three separate Supreme Court interventions, including the first in 2014 along with senior advocate Kamini Jaiswal just to get the case registered.
It took another four years to get charges framed in December 2018.
Examination of the prosecution witnesses took three years.
Under the law, rape trials are supposed to conclude two months after the filing of the chargesheet.
On the stand, the woman was asked questions that are not even permitted, for instance, about her past sexual history. Shamefully, the lawyers for the accused even questioned the legitimacy of her marriage, asking her if she was her husband's mistress (rakhail).
"They wanted to know whether I had been raped from the front or from the back," X said. "They asked me about how many fields I ran through, the area of each field, and whether I was running towards the east or west."
Despite being provided with security by the Uttar Pradesh government, the woman and her family had to move to Delhi for two years in 2016 because of the threats from the men who were out on bail. When the threats failed to intimidate her, they offered money, she said.
In the judgment, the judge calls X a "sterling witness".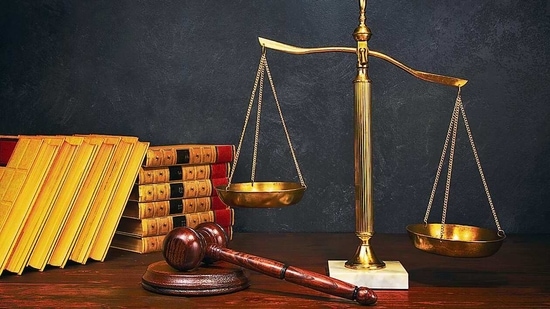 The final stretch? Umm, not really
In January 2022, the case was listed for final arguments. Grover and her team wrapped up by February. When it was the accused lawyers' turn, the case was listed on 10 separate dates. Each time, the lawyers would argue partially and then find a convenient excuse to ask for a fresh date. In July the judge was transferred.
From September to October the defence lawyers appeared six times before the new judge with incomplete arguments each time. In November, the exasperated judge threatened to impose costs. Then the judge was transferred again.
Finally, in February this year, Grover went back to the Supreme Court. On March 13, the apex court agreed that the trial had to be conducted daily so as to reach a conclusion. "The strategy was just to wear out the lawyers and witnesses," said Grover.
Moving on
Despite her travails, X is happy she was able to eventually get justice. She knows the price she and her family have paid. Her eldest son, 12, is in the fifth standard and the younger two, 10 and 6, are in the fourth and second. They are bright kids, she beams, but their studies have been disrupted between court dates and the family's move to Delhi and back to Shamli.
"One day I will tell them about what happened," she said. "And I will tell them that they gave me the strength to fight on."
But, cautioned Grover: "These are not matters for celebration. The criminal justice system is not working when one side has social, economic and political patronage."
No woman should ever have to be so brave.
In numbers
Over 4.5 million women and babies—one every seven seconds—die every year during pregnancy, childbirth or the first weeks after birth. Most of these cause are preventable or treatable if proper care was available.
Source: A new WHO report highlights how global progress in reducing the deaths of pregnant women, mothers and babies has flatlined for the last eight year due to decreasing investments in maternal and newborn health.
Watch
She finished last in the women's 5,000m but Cambodian athlete Bou Samnang's refusal to give up made her a winner anyway. Despite the torrential rainfall that began after most of the field had already finished at the Southeast Asian Games on Monday, Samnang persevered, crossing the finish line almost six minutes after the race's winner, Nguyen Thi Oanh of Vietnam. Later, the Cambodian prime minister announced a $10,000 bonus to reward her "determination".
News you may have missed
And it's a wrap
After 10 intense days of hearing 20 separate petitions asking for marriage equality rights, a five-judge constitution bench said it was reserving judgment.
The central government has vociferously opposed the granting of marriage rights to the LGBTQI community on the grounds that to do so is the job of Parliament. It, however, agreed to set up a committee headed by the cabinet secretary to examine "administrative steps" the government can take to ensure benefit to same-sex couples without actually granting marriage rights.
On Wednesday, the government also informed the court that seven states, including Congress-ruled Rajasthan, were opposed to legal validation of such marriages.
The petitioners argue that the denial of marriage rights, which brings with it a bouquet of other rights including inheritance and adoption, denies them equal protection and rights guaranteed by the Constitution.
Rumble in the dangal continues
Two weeks after Delhi police, at the prompting of the Supreme Court, finally registered two FIRs, including one under POCSO (Protection of Children from Sexual Offences), against Brij Bhushan Sharan Singh, the police finally got around to questioning the powerful head of the Wrestling Federation of India. Singh has been accused of sexual harassment by seven women, including a minor.
The apex court noted that it is "disquieting" to see serious lapses in the enforcement of the law against workplace sexual harassment. On May 4, The Indian Express had reported that 16 of 30 sporting federations did not even have a complaints committee as mandated by the law.
At Jantar Mantar, the unprecedented protest by India's champion wrestlers continues with farm leaders and khap representatives joining in even as the Haryana wrestling body suspended three officials for their alleged involvement in the agitation. [I wrote about the protest and its implications on a new generation of women athletes here]
Law v love
The Delhi high court granted bail to a 19-year-old man who had eloped with his 16-year-old girlfriend in April 2021. Unfortunately for the man, his girlfriend's parents registered a case of rape against him. But, ruled, Justice Swarna Kanta Sharma, while teenagers might be unaware of the laws and age of consent, "adolescent love cannot be controlled by the courts. "
Coincidentally, the Bombay high court also heard a case that involved a 23-year-old man booked on charges of raping a minor, when he was, in fact, in a consensual relationship with her. The law to protect children from sexual offences was not enacted to punish minor, the court observed while granting bail to the man.
A 2014 study found that over a third of all rape trials in Delhi and Mumbai involved consenting couples where the girl was younger than 18, the legal age of consent.
Can't make this s*** up
Who would have imagined that an ad for Starbucks would generate such strong reactions? This one, made by Edelman and featuring transgender actor Sia, left me a bit teary but resulted in a lot of huffing and puffing on social media, as well as an open display of transphobia. Too much "wokeness", "extremist American ideology" and, even, a complaint about why the ad uses Hindu names and not Muslim ones.
Briefly noted
Homo sapiens, first made an appearance around 300,000 BCE. As recently as 7400 BCE, Neolithic communities in southern Anatolia remained relatively gender-blind. In fact, the body of a female big game hunter found buried in the Peruvian Andes dates back to 7,000 BCE. Fast forward to 2022 when the US Supreme Court overturned the right to abortion, a year after the Taliban took Afghanistan back to the dark ages when girls can't attend school and women may not travel unescorted by a male relative.
Through this timeline, when does patriarchy begin? And more importantly why? There is no one-line answer and science journalist Angela Saini does warn against over-simplifying the question and points out that there is no universal experience of gender inequality.
Like her first book, Inferior (2017), which looked at the new science on women after years of sexist assumptions, and her second one, Superior (2019) on the bunkum around race science, Saini's third book on the origins of patriarchy is scrupulously researched.
The good news? Patriarchy is neither inevitable nor irreversible.
Angela Saini, The Patriarchs: How men came to rule. HarperCollins, Rs 699
AROUND THE WORLD
In New York, a jury of nine found Donald Trump liable for sexually abusing in 1996, and subsequently defaming, columnist E Jean Carroll and asked the former US president to pay $5 million in damages. Carrol filed her lawsuit last year after a New York law temporarily lifted the statute of limitations.
Trump, who has already been indicted for paying hush money to a woman who accused him of sexual encounters, did not attend the trial and declined to testify in his own defence, mocking Carroll by saying she was not "his type". After the verdict, he described Carroll as a "wack job" at a CNN Townhouse. In a statement, Carroll said her victory "is not just for me but for every woman who has suffered because she was not believed".
In Iran, cases have been filed against two well-known actresses, Baran Kosari and Shaghayegh Dehghan for having the temerity to take off their headscarves in public, reports Al Jazeera. While Kosari was seen minus her headscarf at the funeral of a fellow actor, Deghan was photographed with her hair visible during a book launch at a Teheran café.
And this…. The Food and Drug Administration (FDA) has finally ended the ban on gay/bisexual blood donation. Donors will no longer be asked about their past sexual history, reports the New York Times.