As the interfaith couple–Muslim man, Hindu woman–was about to enter the registrar's office at Moradabad, Uttar Pradesh (UP) on April 18 to marry under the Special Marriage Act, they were accosted by a group of Hindu Yuva Vahini activists. This is 'love jihad' the group alleged. The man had befriended the woman on social media, using a fake Hindu name, it claimed.
The police was called in to file a first information report (FIR) with various charges slapped on the man, including kidnapping and abduction. Then, they informed the woman's parents who live in Ludhiana to come and take away their daughter.
Miles away in Kerala, a day later, the high court declined to intervene in an interfaith marriage between a Christian woman and a Muslim man. The marriage has been causing quite a ruckus since the man is a member of the CPI (M) and a Christian MLA from his own party raised questions about 'love jihad'.
The woman's father had filed a writ of habeas corpus (literally, 'produce the body') claiming that his daughter was being brainwashed but when she showed up in court, the 26-year-old pointed out that she had the right under the law to marry the man of her choice. The court agreed with her.
Memories of Hadiya
It was a very different court that had in 2017 pronounced judgment on a 24-year-old homeopathy student who had converted from Hinduism to Islam after which she married a Muslim man. Convinced that her conversion was under duress and fearing that his daughter was about to be sent off to join a terrorist organisation (she later told the court that she didn't even have a passport), her father filed a habeas corpus petition in the Kerala High Court.
Calling Hadiya 'weak and vulnerable', the court declared her marriage null and void, and observed: "As per Indian tradition, the custody of an unmarried daughter is with the parents, until she is properly married."
A year later, the Supreme Court overturned that judgment and agreed that Hadiya had the right and freedom to marry and live with a man of her choice.
It was during the course of this hearing that the National Investigating Agency (NIA), the country's premier investigating agency was asked by the Supreme Court to examine interfaith marriages in Kerala. The NIA told the court it had found no evidence of coercion.
Interfaith marriages
Less than 1% of all Indian marriages, found Pew Research in 2021 are with spouses who were raised on a different religion, but may have since converted. Indeed across all faiths, a majority of Indians believe it is 'very important' to stop men and women in their community from marrying outside their religion, found the study.
In a country where 93% of all marriages are arranged by parents in line with faith and caste endogamy, the mere thought of an interfaith union continues to be anathema. In October 2020, jewellery maker Tanishq had to, under public pressure, withdraw an ad that portrayed an interfaith union.
Given this data, 'love' marriages and in particular, interfaith 'love marriages' certainly seem to attract disproportionate attention.
Love jihad in a nutshell
A right-wing conspiracy theory that has its origins in Kerala, would have you believe that there is a vast conspiracy under which Muslim men seek to entrap innocent Hindu (and sometimes Christian) women under the guise of love with the sole purpose of getting them to convert for the purposes of marriage.
Apart from the obvious paternalism of such a theory, denying adult women the agency or even believing them to be capable of making up their own mind, there's the inconvenient fact about proof.
In January 2020, National Commission of Women (NCW) chairperson Rekha Sharma called Kerala a 'ticking time bomb' that would explode unless the state government acted. In October she met with Maharashtra governor Bhagat Singh Koshyari to discuss the 'rise in love jihad cases'.
But there was no back-up for this sort of claim. Aniket Aga, a professor at Ashoka University, made an attempt to get details from the NCW under the Right to Information Act but was stymied (see more here).
That same month, the Syro-Malabar church complained to the National Commission for Minorities that 11 Christian women had been converted to Islam and taken to Syria. Once again, Kerala police, acting on the complaint, found no evidence of 'love jihad'.
What is the love jihad law?
As of this time, 10 BJP-ruled states, starting with UP in November 2020, have laws to prevent unlawful religious conversions. These include Madhya Pradesh, Uttarakhand, Gujarat, Karnataka and, the latest to join, Haryana.
These laws have been enacted to prevent forceful conversion. But they also introduce administrative hurdles for interfaith couples who wish to marry. Within just one year of introducing the law in UP, 108 police complaints against 340 people had been filed. In this time, according to The Leaflet, there was not even one conviction.
Why the Special Marriage Act isn't always the answer
Enacted in 1954, this law enables two individuals of different faiths to marry. Amongst its requirements is 30-day notice with details of the intending couple displayed in public so that anyone with objections can come forward.
But putting on display the personal details of the couple, including their address and phone number is also a red flag to vigilante groups opposed to the idea of an interfaith marriage.
In some states it is routine for police to call interfaith couples and their parents to the police station, Lucknow-based lawyer Renu Mishra of the Association for Advocacy and Legal Initiatives told me.
The law does not require consenting adults to seek parental approval. But in a country where 'honour killings' continue–there is no separate data maintained by the National Crime Records Bureau for these crimes–couples don't always have the luxury of waiting for 30 days. Religious marriages, on the other hand, require no such notice. So, it just becomes expedient for one of them to convert.
The anti-'love jihad' laws as well as the provision that requires 30-day notice are both under legal challenge in the Supreme Court.
GENDER TRACKER
Out of 54 central universities in India, just seven have women vice-chancellors. None of the 23 IITs has a woman director.
Source: Malabika Sarkar, vice-chancellor, Ashoka University who advocates for a policy that will ensure more women leaders in academia. Read more here.
WATCH
In addition to Dalit History Month, April is also sexual assault awareness month. Here's an oldie (but a goldie) from 2015 on understanding consent – it really is as simple as a cup of tea. If you haven't seen it already, watch here. If you have, consider forwarding this and spreading the word.
(Uploaded by Thames Valley Police. Animation courtesy of Emmeline May at rockstardinosaurpirateprincess.com and Blue Seat Studios.)
FROM THE COURTS
Animal-like conditions in an ashram headed by a rape-accused absconder
The Delhi High Court said it was 'aghast' over the management of a Rohini-based ashram where nearly 100 women have been living in 'animal-like conditions'.
The Adhyatmik Vidhyalaya ashram was set up by a self-styled godman, 'Baba' Virendra Dixit who has been accused of rape and luring girls, some as young as 14, under the guise of providing them with a spiritual education. Dixit was charge-sheeted by the Central Bureau of Investigation in 2018 and has been absconding ever since even as his ashrams in Delhi and Rajasthan continue to function.
The court's comments came over two hearings of a petition filed by the parents who said they had not been allowed to visit their daughter after they travelled from Hyderabad to see her. Represented by senior advocate Maneka Guruswamy and Sravan Kumar, the two judge bench of acting chief justice Vipin Sanghi and justice Navin Chawla asked the Delhi government to consider taking over the management of the ashram. They noted that the ashram had multiple doors with locks, that some of the girls appeared to be minors and several appeared to have been drugged.
"We are not, for a moment, suggesting that the institution and its inmates should not profess their religious and spiritual beliefs. They are free to do that so long as they do not contravene any law or constitutional provision," the judges said.
Live-in relationships=promiscuity +sexual offences
In Madhya Pradesh, high court judge Subodh Abhyankar said live-in relationships are a 'bane' that result in increasing promiscuity and sexual offences. The judge made his remarks in the course of rejecting the anticipatory bail of a man accused of rape. The man had been in a live-in relationship with a woman who became pregnant twice during the course of the relationship, and had to have an abortion. After the relationship had ended, the woman filed rape charges against the man.
Trans toilets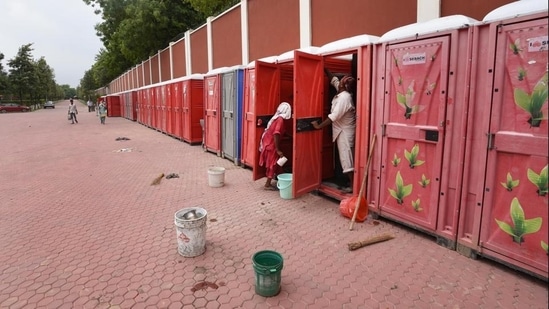 The Delhi high court has asked the government to file a status report on the creation of separate toilets for transgender people in public places.
AROUND THE WORLD
Les Hijabeuses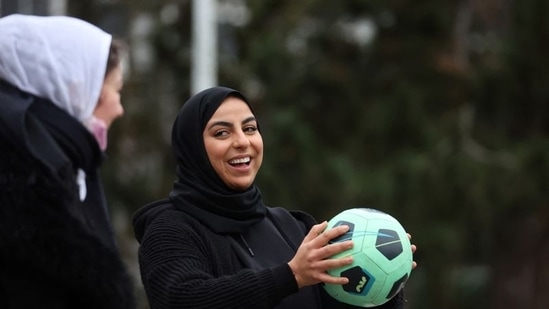 A group of 80 or so hijab-wearing soccer players in France are determined to play the game in their hijabs. Interestingly, French laws as well as FIFA allows sportswomen to play in hijab but the country's soccer federation prohibits it on the argument that it would break the principle of religious neutrality on the field. Read the New York Times feature here.
Indonesia's armed forces FINALLY chuck out virginity tests for women recruits
Human Rights Watch (HRW) reports that the ludicrous, not to mention, unscientific 'virginity test' for women recruits conducting by inserting two fingers into the vagina has finally been banned. Despite a 2021 order by the then army chief to assess women recruits only on the basis of their physical capabilities, 'virginity tests' , which HRW describes as a 'form of gender-based violence', continued. The World Health Organisation has said these tests have no scientific validity.
Are we woke yet?
While carrying out a software update, Apple introduced new gender-neutral emojis, including that of a pregnant man and a pregnant person. The move reignited the controversial debate of whether biology plays a role (or should) in trans identity.
Were you forwarded this email? Did you stumble upon it online? Sign up here.
That's it for this week. If you have a tip or information on gender-related developments that you would like to share write to me at: namita.bhandare@gmail.com.