The protests by some women workers at Urban Company, the Indian platform that provides home and beauty services, are not new. What is unprecedented is the legal notice sent by the company to its workers (called "partners") who are protesting against "unfair trade practices", which the women say, will hurt their earnings. Back in October, the women had sat in protest too. Then, the company agreed to revise its commission rates, a bone of contention with the workers.
On December 20, there was a new round of protests as 50-odd women began a sit-in outside the company's office to demonstrate against new rules that require them to pay a monthly subscription of Rs 3,000 and guarantee at least 40 jobs per month, or forfeit the subscription. The company also plans to go ahead with a ratings system under which those in the lowest category are required to offer discounts to customers.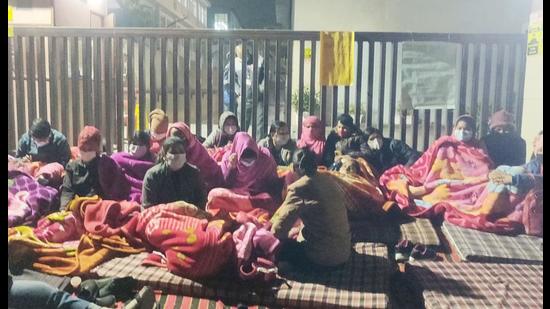 Urban Company has responded by issuing notice to the women protestors and seeking a permanent injunction against demonstrations and protests from a Gurugram district court, reported first by Soumyarendra Barik of Entrackr.
Partners not workers:
When she joined Urban Clap as it was then known four years ago, Seema Singh was already running a beauty salon with four employees of her own, she said. But with two young children, the youngest just a few months old, and an elderly mother-in-law at home she needed flexibility of working hours. "The company said I would earn on my own terms and could work when and how much I liked," she said.
This flexibility has been gradually whittled away as the company began imposing newer rules and restrictions, she said. "This company runs on our earnings. We built it and now they are harassing us and imposing conditions," she said.
Singh is one of four workers who have been legally served by the company. "They call us 'partners' but when we were sitting outside in the freezing cold, we were not even allowed use of the washroom," she said. Ever since the notice was sent, the protest has been called off.
Gig work and women:
Bound by gendered notions of what is appropriate work for women, hampered by a disproportionate share of housework and shackled by lack of infrastructure including low-cost and safe public transportation and generally hostile public spaces, the gig economy has provided women with flexibility and an income, but little in terms of job security.
This flexibility comes at a time when women's workforce participation has fallen to historically low levels and the Covid pandemic has had a disproportionate impact on women's paid employment.
Companies like Urban Company (home care and beauty service), Ola (transportation) and Swiggy (food delivery) connect customers with service providers. In 2019, Urban Company had close to 20,000 service providers, 40% of whom were women, found a June 2020 study by Initiative for What Works to Advance Women and Girls in the Economy (IWWAGE). The study also found that while women workers appreciated the income-generating potential of the gig economy, they encountered challenges in terms of social protection, safety, upward mobility and bargaining power.
Seema Singh is undeterred. "I possess a skill. This company grew because of me. If I leave, I will be able to stand on my own feet," she said.
Newsmaker
Hum saath saath hain:
The courts will eventually decide on a clutch of petitions already before it on same-sex marriage. But in Hyderabad, Supriyo Chakraborty and Abhay Dang said no one's permission was needed to be happy and went ahead and tied the knot on December 18.
Gender Tracker
617 are the number of convictions in the 26 years since the Pre-Conception and Pre-Natal Diagnostic Techniques Act, 1994 made it illegal test the gender of a foetus. The number of cases filed so far are 3,158. As many as 18 states didn't have a single case registered.
The sex ratio at birth is 929 girls for every 1,000 boys born finds the latest round of the National Family Health Survey.
(Source: Fifth report of the Parliamentary Committee on empowerment of women)
WATCH
Under training since 2019, 32 women commandos of the Central Reserve Police Force are now set to be deployed to provide security to Z+ category politicians including home minister Amit Shah and Congress leader Sonia Gandhi. More here.
Quote/Unquote
REST IN POWER
Joan Didion, iconic essayist and enormously influential chronicler of contemporary American society, died aged 87. "When women writers of my generation speak in awed tones of Didion's 'style'," wrote English novelist Zadie Smith in a tribute in New Yorker, what they revere is "the authority. The authority of tone."
STORIES YOU MIGHT HAVE MISSED
To raise or not to raise?
A draft bill seeking to raise the legal age of marriage of women to 21 from 18 was tabled in the Lok Sabha on December 21 by minister for women and child development Smriti Irani. While Irani listed the advantages of raising the age – gender parity with men, improved education, health and nutrition outcomes, Opposition parties were critical. Congress's Adhir Ranjan Chowdhury said it was being introduced in a hurry without consultation with all stakeholders. Asaduddin Owaisi of the AIMIM said it was against "fundamental rights". Irani has sent the bill to a Parliamentary panel for further scrutiny.
Unacceptable cost of sexual harassment:
"Safety is only in the cemetery and in a mother's womb," were the heart-breaking words of a 17-year-old, class 11 student who died by suicide on Saturday after being sexually harassed by a man two years her senior in school in Chennai. Divya Chandrababu reports that the student left three separate suicide notes that mention an older student and relatives. The accused, now an engineering student was arrested after the police analysed the girl's phone.
FIELD NOTES
When machines replace women: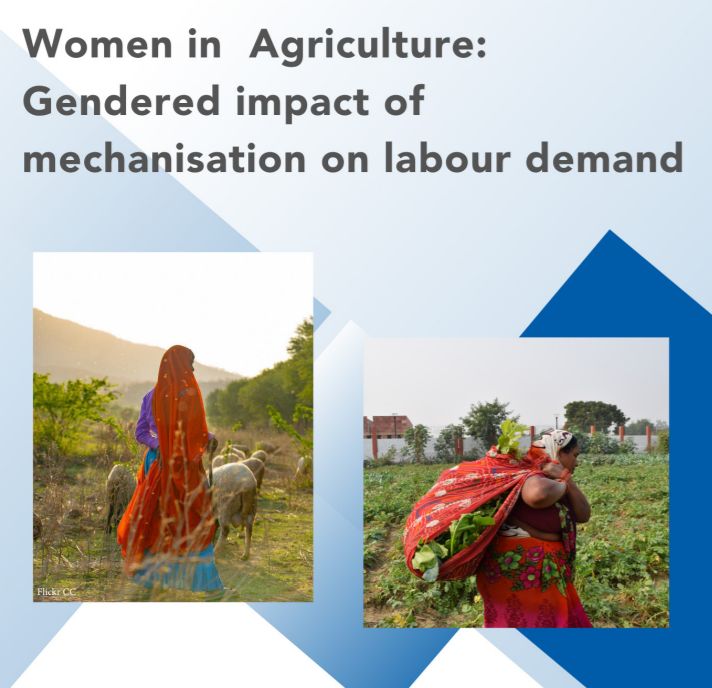 Wide-scale use of tractors on Indian farms began in the 1990s. Since then, machine usage has only gone up. An obvious impact of increasing mechanisation would be human labour. But just by how much is now the findings of a new paper by IWWAGE, Women in Agriculture: gendered impact of mechanisation of labour demand.
The paper finds that the proportion of working-age adults fell by as much as 11 percentage points between 1999 and 2011, according to the National Sample Survey. As farms moved towards mechanisation, men were more likely to be hired to operate the machines. Women's labour bore the biggest brunt of this decline in labour, not just in terms of overall labour force participation but, more specifically, in rural employment. As women lost jobs in agriculture, they did not find replacement jobs. An increase of one percentage point in mechanisation decreased female labour usage per hectare by 0.7%
Read the paper here.
AROUND THE WORLD
Flight to safety:
Female football players from Afghanistan and their immediate families have managed to flee their country and find safe refuge in England thanks to a global effort that included an orthodox rabbi, Leeds United and reality star Kim Kardashian. The 131 Afghans are temporarily housed in an undisclosed location and include the 28-strong squad that had been recently selected to play for the women's national team when the Taliban took over.
Divorce settlement:
In what is reported to be the most expensive divorce settlement ever, Dubai ruler Sheikh Mohammed bin Rashid Al Maktoum has been ordered by a British court to pay $733 million to his sixth wife, Princess Haya Bint Al Hussein and their children. The 47-year-old Haya who is also the sister of the late King Hussein of Jordan fled to the UK in 2019 and has said she is "terrified" of her husband.
That's it for this week. If you have a tip or information on gender-related developments that you would like to share, write to me at: namita.bhandare@gmail.com.

Were you forwarded this email? Did you stumble upon it online? Sign up here.
Written by Namita Bhandare. Produced by Nirmalya Dutta.